Crewkicks Sale Description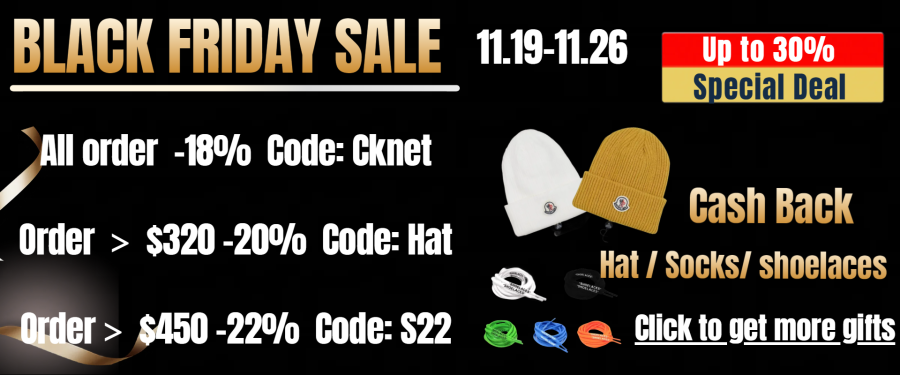 Are you ready for Black Friday? Black Friday Deals 2023 in Crewkicks
Friday, 24 November 2023

5

6976

1
Crewkicks Black Friday Sale
Dear Valued Customers
As the holiday season approaches, we're excited to kick things off with a spectacular Black Friday Sale at Crewkicks! Get ready for a shopping experience like never before, filled with unbeatable deals and exclusive promotions.
The sale will start from 19th to 26th November. Here's what you can expect:
1. Massive Discounts:& Randomly Gift
All order -18% + Free $9.9 Shoelaces Code: CKnet
Order >$320 -20% + Free $29.9 Socks Code: Hat
Order >$420 -22% + Free $59.9 Hat Code: S22
Note:
If order over $800 we will send a pair of free Slide or Hoodie sale in our website
If order over $1000 please contact us we will give you a bigger discount and send you more gifts
Clicks of Gifts:
👉 Hat
2. Limited-Time Offers:
We have selected some of the best-selling products of the year, such as Jordan 4, Yeazy Boost, and Dunk, to offer you Up to 50% off.
Click to get $49.99 Jordan 4 👉$49.99 Jordan 4 👈
Click to get 25% off Jordan 1 &Yeezy shoes 👉 25% off Shoes 👈
3. Cash Back
From now to 26th Nov. If you invite your friend to our website and he/she place the order and pay successfully. each order we will give you $5 and you also can get a extra Off-White laces or Socks
Note: Need to contact us and send the proof of which one is you invited and the order number

If you have any questions or need assistance, our customer support team is here to help.
👉 Whatsapp: +1-838-900
👉 Email: crewkickofficial@gmail.com
👉 Discord
We can't wait to share the joy of the holiday season with you through our Black Friday Sale. Thank your support and trust.
Happy shopping!
Best regards,
Crewkicks


Your cart is currently empty.